Entrevistas Tribuna
Hope Solo: "Sepp Blatter grabbed my ass. Can I talk about that?"
In Lisbon for Web Summit, the outspoken and controversial former USA goalkeeper gave an exclusive interview to Expresso about gender equality and sexual harassment. In this excerpt from the conversation, she accuses the now disgraced former FIFA President Sepp Blatter of sexually harassing her at the 2012 Ballon D'Or Gala, right before she went on stage to present the female player of the year award
For the last few weeks, we've had all these personalities in Hollywood sharing their experiences with sexual harassment. Is that an issue also in female soccer?
Of course it is.
Have you experienced it? Have you seen it?
Yes, I've seen it throughout my entire career. And I wish more female athletes would speak out about their own experiences. It's rampant, it's not just in Hollywood, it's probably all over the place. I've seen it in sports. For years, in the past, female players date and end up marrying their college coaches, which obviously a coach should not be doing, especially with a young player. I've seen it not just with coaches, I've seen it with trainers, doctors, and our press officers... I've seen it amongst players in the locker room. I don't know why more players don't speak out against it.
Do you think we are at a tipping point of change in society towards these issues? Do you believe the Pandora box has been opened? Everyone knew this was going on for years, in fashion, in sports, in business, but no one was talking about it.
I had Sepp Blatter grab my ass.
Sorry?
You know Sepp Blatter?
Of course.
OK. I had Sepp Blatter grab my ass [turns towards her press assistant, Melinda Travis]. Can I talk about that? It was at the Ballon D'or one year [Solo presented the FIFA's women's player of the year award in January 2013 and shared the stage with the now disgraced former FIFA president], right before I went on stage... It's been normalized.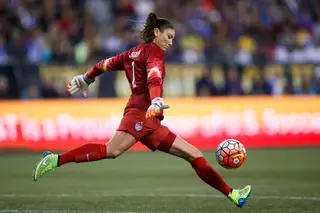 It's interesting that you say that. There has been a kind of backlash towards some of these women, asking why haven't they spoke before. What would you say to those people?
This is what I can say: I'm actually very disappointed with the women who haven't spoken about it in the sports world. Yes, everybody has [the right to make] their individual decisions, and it is uncomfortable, but I wish more women, especially in football, would speak against it, about their experiences, because some of those people still work there and some of the players still act in these behaviors. I had some bad experiences with players who are still on the team. I think it is important to acknowledge that this doesn't just happen with the powerful white men. It can happen all across the board, it can happen between women, it can happen anywhere. We are focused on the powerful white men, because I think that's probably more prevalent, but It can happen anywhere. I've seen that.
Can we change it? Are we becoming more conscious about those issues? Or you are not that optimistic?
I think it's going to take time, but I do think people will have to think twice before they make certain comments, obviously before they just... grab my ass.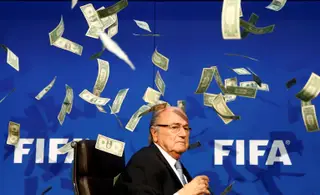 Why didn't you speak about this case with Sepp Blatter before?
I speak out directly [with people] when things like that happen. In other cases, for instance, I've told my teammates: "Don't ever fucking touch me! Don't do it". It has been in the showers, it's been in the locker room... I usually speak directly with the person. In the case of Sepp Blatter, I went on the stage, I was nervous for the presentation... It was the Ballon D'Or I was presenting. After that I didn't see him and that was kind of bad. I didn't get to tell him directly "Don't ever touch me!" That's the way I've always handled things. Directly.
Contacted by Expresso and The Guardian, Blatter, via his spokesman, said Solo's allegation was "ridiculous"
Relacionados
Entrevistas Tribuna

De passagem pela Web Summit, a histórica e controversa guarda-redes da equipa de futebol feminino dos Estados Unidos deu uma entrevista exclusiva ao Expresso (leia a entrevista completa na revista E de sábado) sobre a igualdade de género e o assédio sexual no desporto. Neste excerto da conversa, acusa o antigo presidente da FIFA Sepp Blatter de a ter apalpado durante a gala da Bola de Ouro de 2012, momentos antes de subir ao palco para entregar o prémio de Melhor Futebolista do Mundo à colega Abby Wambach